Late last fall I came across some cool stencil designs on Etsy by Olive Leaf Stencils. Many were oversized and different than anything I've seen available before. Two that I particularly loved were an art deco style floral border and a peacock design.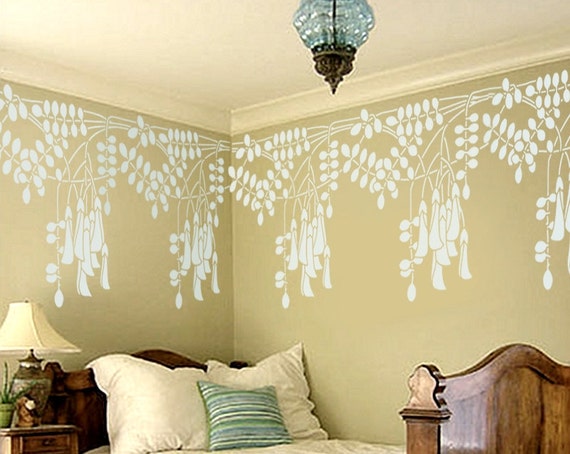 I was itching to find a place to use them. Luckily, at about the same time, I met Grace Jones, an interior designer in Cincinnati. Grace is opening a brand new studio tomorrow and I've been blessed to do some decorative painting in her new space in the last few weeks.
And guess what I got to do?
A gold and silver metallic peacock on a black door.
It looks so elegant next to the textural grass cloth wallpaper in the hallway.
Crystals were added to her eye and plume for some extra sparkle.
And beyond the peacock door . . .
I did a painterly version of the stencil, using metallic plasters and handpainted shading. Crystals were added and a crusty plaster with sparkly mica flakes was dragged over everything. It is one of those finishes that you need to see up close to appreciate.
I'm looking forward to hearing the reactions to both of these finishes at the grand opening of Dwellings tomorrow night. Hope they grab some attention.
If you are interested in beautiful paint finishes for your home, please contact me. I'd love to work with you to create one-of-a-kind art!